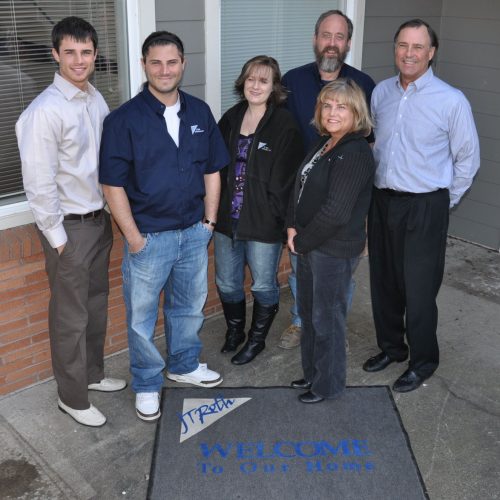 At J.T. Roth Construction, we are an award winning, top rated, custom new home builder in the Pacific Northwest. We pride ourselves on being a family run business with over 40 years of experience primarily in the Portland Metropolitan area. Throughout the years, we have developed a level of experience that was attained by hard diligent work, as well as paying attention to our home buyers and their needs. Over time, we have become one of the most relied upon new construction home builders in the Portland market. Our reputation is held in high by using a hands-on approach to new residential construction, a commitment to quality craftsmanship, and exceptional customer service. At JT Roth Construction, we take pride in our homes and communities. A wide variety of home styles and models are just one part of the benefit of working with us. At JT Roth, we work with premier architects and suppliers to provide high quality houses you will be proud to make your home.
The Experience.
Let our experience do the talking
High-quality Craftsmanship & Design
With the combination of all these we are able to be the best in the industry. We build beautiful homes that last. 
Its very important for us to have a strategy before every project. Whether its a development project or picking houseplans we will always have input as we know what works and what doesnt work.
Building trends are constantly changing. Like any successful business its important adapt with the times. We pride ourselves on always using the newest materials, building to current trends & using up-to-date floor-plans.
With over 40 years of being in business, we have weathered many storms. This reputation allows us to use the best trades and negotiate the best pricing.
Quality Assurance is very important to us and we ask that warranty concerns be addressed as they arise by contacting the appropriate subcontractor directly.
PUBLISHED ARTICLE
"With one of the biggest paradigm shifts underway in the history of our country, Tim Roth of JT Roth Construction, Inc. had an idea. Why not break out of the box of conventional home design and produce livable affordable homes each with their own detached "Casita"..."
PUBLISHED ARTICLE
"The Winsome, by J.T. Roth Construction, has three bedrooms and 3.5 baths, with an attached studio or guesthouse with full bath and separate entrance. It also features a two-sided fireplace shared by deck and great room.... "
PUBLISHED ARTICLE
"Realtors say the demand for homes with more flexible space is on the rise, and local builders are looking for ways to creatively meet the demand. Tim Roth of J.T. Roth Construction has introduced new home plans at the Kramer's Meadow neighborhood in Tigard that feature casitas, roomy spaces that include a full bath and kichenette and can be outfitted for a variety of purposes..."
PUBLISHED ARTICLE
"This new concept and floor plan built by J. T. Roth Construction features 3,065 square-feet, and a three car garage. An attached studio/guest quarter includes a full bath, kitchenette, large closet and completely separate entry. The main home has an incredible floor plan ..."
PUBLISHED ARTICLE
"Tim Roth, owner of JT Roth Construction, said he would be willing to cover some of the closing costs on one of newly built homes for a veteran who plans to fianance the sale with a VA loan. "it's a great opportunity for the seller to make contributions to help them get into a home," Roth said. "There will be some up-front costs, and to that extent, I could make a contribution."..."